About Restaurant
Restaurant
Ariel
The name "Ariel" originates in Old Testament. This one of four archangels name, who appeared on earth in the form of a lion devouring in flames offerings put on a temple altar. "Ariel" belongs to hosts of angels surrounding the Throne of Glory. He is also known as "Uriel", which translated from Old Hebrew stands for "the Light of God".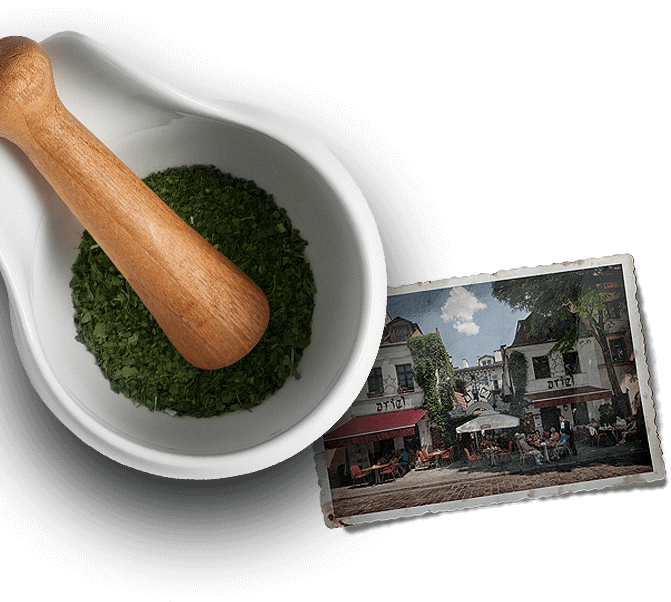 At the heart
of Kazimierz
A restaurant, cafe and gallery "Ariel" is located in the very centre of Kazimierz, a Jewish quarter of vibrant with life. There are 5 synagogues within 200 m distance, including one fully active (Remuh), a historical cementery and a house of prayer, where a well - know cabbala master Natan Spira used to live and work. This object is also known as synagogue "Auf dem Bergel" (now it hauses a bank). Also the socalled "Old Synagogue", the oldest Jewish temple in Poland, were a Judaistic museum is lokated, deserves attention.
Restaurant
with history
"Ariel" was established in a tenement house erected between the World Wars, occupying the place where an old 18th century "Rabbi House" used to stand, inhabited by uncompromising adversaries of Chasidism - rabbi Isaak Lewitan (died in 1799) and his son Dawid Levy (Cracow`s rabbi in 1816 - 1832).
But it is
not everything
Currently it houses the first private Judaistic art gallery in Cracow, with old and contemporary pieces of art, and in the second symmetric wing of the building, newly constructed, there is a cafe and restaurant with Jewish music concerts.

Our dining rooms
Fireplace
dining room
Air-conditioned dining room for 45 guests. Located on the first-floor of antiqua Jewish tenement-house from the 16th century. Charming fireplace and Jewish style paintings will let you feel the atmosphere of old Kazimierz.
Performance
dining room
Air-conditioned dining room for 80 guests. Located on second-floor. Beautiful dining room decorated with hundreds of paintings will let you enjoy the Klezmer Jewish music.
Main
dining room
Airconditioned room for 35 guests. By the entrance you will find the gift shop where you can buy:
Paints
Tapes and CD's of Jewish Klezmer music
Books
Jewellery
Figures
Post cards
Menorah (Jewish candles)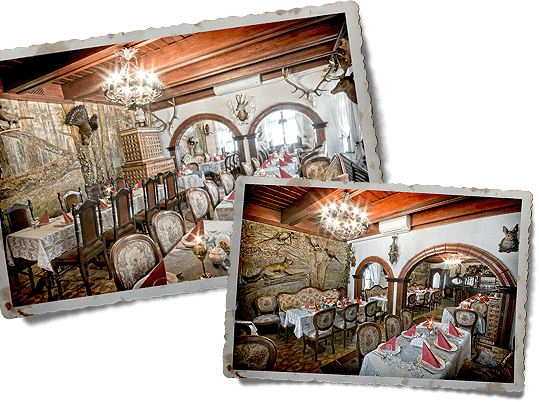 Dining room
Knieja
The room's walls are adorned with plaster relief presenting forests and meadows during 4 seasons.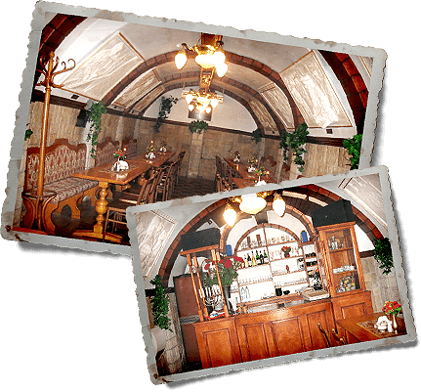 Dining
room basement
Diningroom with aircondition for 65 guestes. Lokated in the basement shows the atmosphere in old Kazimierz in 18th century. On the walls you will see the portrait of famous Jews.
Dining room
Gallerie
Airconditioned room with 50 seats. On the walls you'll find the paints of Jewish culture.